For 2011, National Doodle Day both myself and well known designer Jennifer Bryan (I hope I spelt that right) teamed up to offer something a little different to every keen doodler.
(click the post to see more toys and how to get them.)
On top of the usual Doodle Day activities, you can make a small range of paper toys – designed especially for National Doodle day!
The theme was "me and my world" so I created Globe head a cute little guy with a globe for a head.... But I guess you assumed that from the name. I also created Stacketens these simple toys are aimed at a youner audience and customisers, they come blank so print off as many as you can and see if you can reach the moon by stacking (I bet you can't).
Bellow is what the doodle day site said about my papertoys and Jenns
"Young designer Alexander Gwynne has created two paper toys for National Doodle Day. The first is a stackable skeleton – Stacketen. Print him off as many times as you like – and see how high you can stack him! The second of Alexander's toys is called Globehead – a little dude with a whole planet for a head. Meanwhile, skilled illustrator Jenni Bryan has created a fluffy toy monster called Yu-Kii. He has a big grin, a furry mane and tiny wings.
Both Yu-Kii and Stacketen come as blank templates – so you can colour them in before you assemble them. That means every toy will be different! Once you've made your toys, you can even take a photograph and email it to doodle@epilepsy.org.uk. These photographs will be uploaded to the toybox gallery. Let's see who can make the most colourful creation!"
To make a paper toy, all you need to do is download a PDF file and print it off at home. Then simply cut it out, fold it into shape and glue it together. Hey presto – your very own paper playmate!
Ready for the important bit? How to get your hands on them
To get your toy, first choose which one you'd like to download. Then, text DOODLE 7777 (for Stacketen), DOODLE 8888 (for Yu-Kii) or DOODLE 9999 (for Globehead) to 80039. Each text costs £1.50 and is only available to people in the UK.
You will receive a text reply that contain a link to a web address where you can download your toy.
Stacketen – text DOODLE 7777 to 80039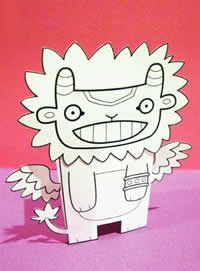 YuKii – text DOODLE 8888 to 80039
Globehead – text DOODLE 9999 to 80039
iI know you might be reluctant to pay for papertoys, but it's for a good cause, and please whatever you do don't send people the PDF if they havent payed.
Go here for all the smallprint and anything I might have missed.